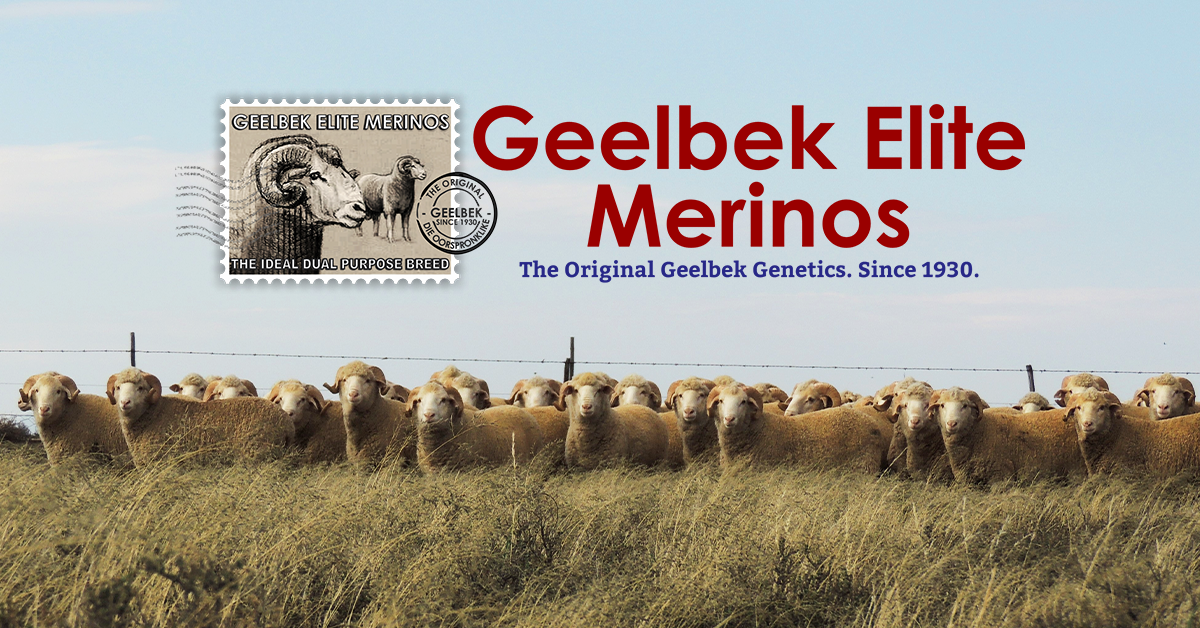 Welcome To The Home Of
The Original Dual Purpose Geelbek Merino
Stefan and Eric Naude, the breeders of Geelbek Elite Merinos know the required traits a profitable Merino sheep should display. With over 90 years of careful observation and strict selection off the veld,  the type of Merino they breed does not differ greatly from what was bred by their fathers and forefathers – a plain bodied Merino,  where the desired economic characteristics to produce wool and mutton, together with hardiness and adaptability was carefully selected for. By mating type to type over and over through generations, the ideal genetic characteristics for both mutton and wool production were cemented in the progeny of the Geelbek.
Since the beginning of the original Geelbek breeding programme over 90 years ago the emphasis has been on constitution, conformation, virility, mothering ability, and milk production.  For fleece, the emphasis has been on length, clean yield, quality and uniformity of a finer wool. 
The goal has always been a truly dual-purpose sheep.
Even in times of low wool prices and drought, the Geelbek Merino weathers the storm, as the sheep are adapted to the natural
farming conditions of the country and can produce and reproduce under severe and adverse circumstances.
Stefan & Eric continue striving to improve their breeding and ensuring quality rams for clients remains a priority,
whilst delivering a honest and genuine service to buyers.
Don't Miss The Next Production Sale
Date: Wednesday, 27 July 2022
Venue: Middleburg Golf Club
Time: 11H00